AIV MP3 Cutter: Free MP3 Splitter for Windows
AIV MP3 Cutter is a free audio software that helps you to extract audio tracks from any MP3 file. If you want to use a specific part of an audio track for using as ringtone PC starting or shut down sound this free mp3 splitter can help you to do that.
This freeware is very useful for splitting mp3 files. You will be able to split or extract your desired part from an audio track easily. You can set the starting point and ending point to ensure that you only get your desired part from an audio file. You can select the length of selection in this way by using the advanced facilities available in this free mp3 splitter. There are many people out there who want to set a music part from an audio track without setting the whole track. If you are also among these people AIV MP3 Cutter is what you are looking for.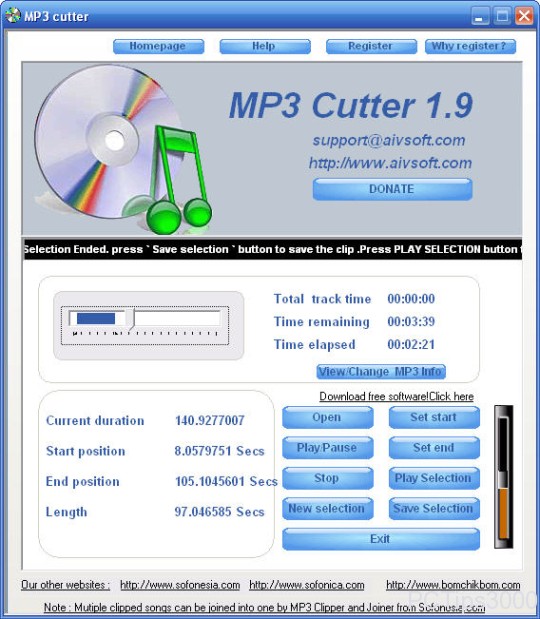 This freeware comes with an intuitive attractive user interface. If you have a big sized mp3 file that cannot be stored because of its size you can split the file and then store in two different CD. You can play selected part from the song before splitting the file if you want and this player also includes a volume controller. You can use this freeware as a free MP3 tag editor if you want and also edit artist name track number and title.
Features of AIV MP3 Cutter:
Split or Cut audio files for creating ringtones
Select start and end point for extracting audio from mp3 files
Edit MP3 tags title artist name and track number
AIV MP3 Cutter is available for download at AIVSoft's official website. It's only 6.62MB in size and supports Windows 7 Vista and XP. Try AIV MP3 Cutter Free