Work And Study More Productively With Stayfocused
Stayfocused is a user-friendly free time management software that helps you to concentrate on your daily works. This freeware is based on the idea of The Pomodoro Technique and it makes sure that you take a break of 5 minutes after working for 25 minutes straight.
The main idea of this freeware is to take a 5 minute break like I mentioned earlier but you can change this method if you want. There is an option for creating tasks in this free productivity tool and you can do almost anything with this option like launching programs opening a website or document or set a new background. There is also a task report tool that can report your time and track your activities. You can open any application that is necessary to complete the work you are doing or open a website that is related with your current task with this freeware.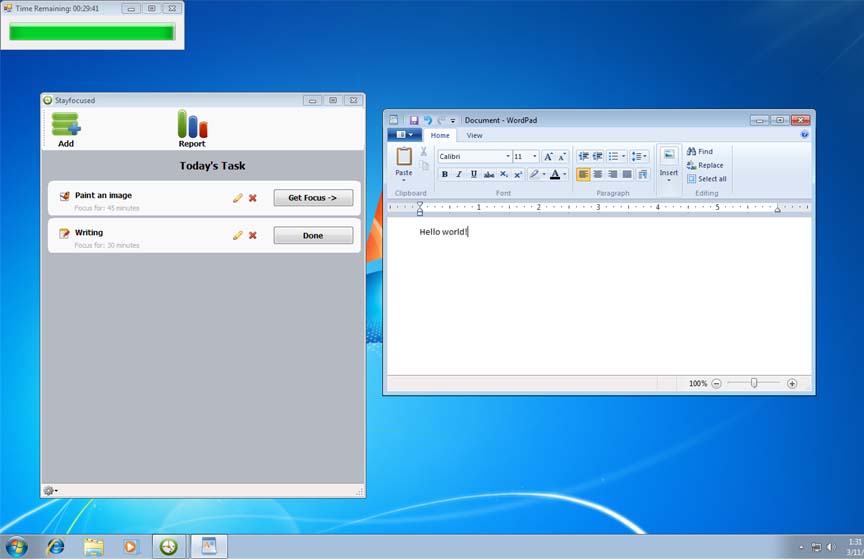 This free productivity tool is very easy to use and comes with simple plain user interface. But you have to install Microsoft Visual Studio Report Viewer first before installing the software. There are only two buttons on the main window Reports and Add with a Today's Tasks button. You can open the Task wizard by clicking the add button. You just have to choose a task enter a task name and browse target from the system tree view. You can also select the task type to configure your time and Focus for interval. If you are looking for a good free time management software for concentrating on your work properly Stayfocused is the best option for you.
Features of Stayfocused:
Helps you to concentrate on your work and take break when necessary
Task Wizard for launching apps opening a web site or document or for setting a background
Task report tool for tracking your activities and report your time
Stayfocused is available for download at Bytesignals official website. It's only 506KB in size and supports Windows 2000 or higher. Try Stayfocused Free