Yadis Backup: Free Backup Software
Yadis Backup is a free backup software that helps you to protect your important files and folders easily. If you want a simple easy-to-use backup software for creating full backups of your important files Yadis Backup is the best option for you.
There are plenty of backup creating apps out there but most of them come with different terms and conditions. But if you are looking for a free backup creator that supports creating backup in almost any place you want Yadis Backup is what you are looking for. You will be able to create a backup of all your data to any place you want. The backups you create can be accessed easily later without any restoration process. If you lose any important file you don't have to wait too long to get it back if you have backed up the file using Yadis Backup.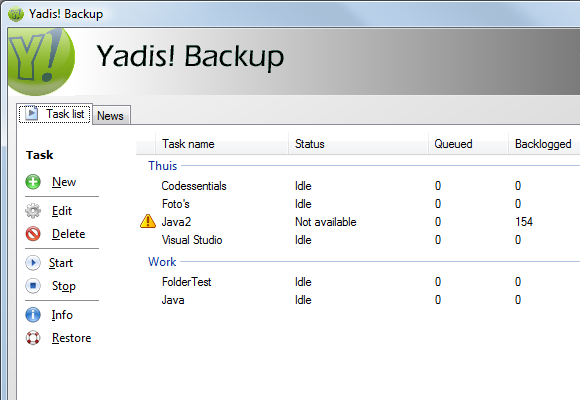 This free backup software comes with two different modes expert and novice. This freeware makes backup process look easy for people who don't know much about these things. You can create a backup in your USB drive other removable drive FTP destinations or almost any place you want. Once the backup is ready you will be able to access them just like you access the original files. So you don't have to worry if you lose any of the files you have backed up.
Features of Yadis Backup:
Create a backup and save it to any destination you want
Protect your personal data easily
Enjoy real time backup change when there is any change in the original folder
Yadis Backup is available for download at Codessentials official website. It's only 1.09MB in size and supports Windows XP or higher. Try Yadis Backup Free