InstantPhotoColor: Free Photo Coloring Software
InstantPhotoColor is a free photo software that helps you to colorize your grayscale and black & white images. This freeware is user-friendly and you can colorize a picture easily using this freeware. Let's see if this freeware has everything that we expect to see in a free image coloring software.
There are many good image editing tools out there but if you don't know much about editing you will find them very difficult to use. So if you want to colorize a black and white photo using these tools things can be really difficult. That's where where this freeware comes in. You can easily colorize any black and white or grayscale photo you want using the color brush inside this free photo coloring software. You can adjust the size of the brush if you want.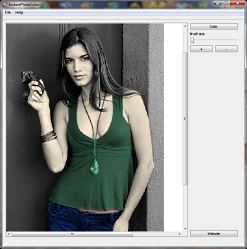 This freeware is very easy to use and only includes one brush to make things easier for you. Just select the image you want to colorize and start coloring it with the brush. It's really as easy as it sounds. You can also allow you to zoom your images when coloring to color images properly. And the best part of this free photo coloring software is you will get your color pictures with original image quality like it was earlier.
Features of InstantPhotoColor:
Color your black & white or grayscale images easily
Adjustable color brush
Simple user-friendly interface with zoom in and out support
InstantPhotoColor is available for download at Clipping Path Studio's website. It's only 5.21MB in size and supports Windows XP or higher. Try InstantPhotoColor Free