Zemana AntiLogger - 3 Years License For Free!
In the last weeks I constantly felt like someone's watching me. Something may be watching me you or anybody else. Who's behind it that's not important but keyloggers are a really dangerous category of malware so when I bumped into Zemana AntiLogger and the awesome deal I'll tell you about I couldn't just stay aside so I downloaded the program from here and...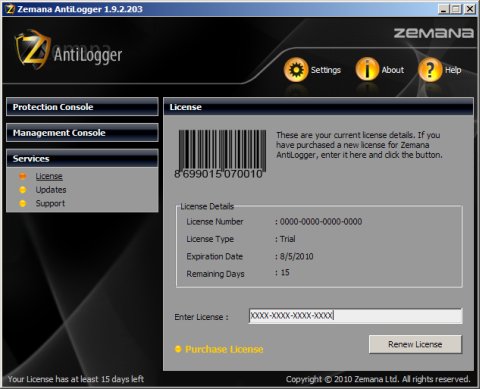 1. Visited this promo URL disregarding the fact that I am not quite familiar with German language. Thanks to Rammstein I know quite a few words but not enough to handle the email I'll get after going beyond step 2...
... which requires entry of name/surname and email on the page I just mentioned (don't worry about the first field it's about your gender - "Herr" stands for "Male" and "Frau" for "Female").
3. Now I just got the email so I have to click the link starting with "http://www.whiteletter.de/mailresponder/"
4. Once you click that link wait for the email containing the product code. In the meantime feel free to install the program and restart the computer as asked.
5. After loading your Windows version once again check the email and enter your code. If it doesn't work... tought luck! :|
To close this with some additional info you should know that Zemana AntiLogger's 3 years subscription that you can get for free is worth $102 and this program works perfectly with Windows 7 Vista or XP/2003. Get it play with it and if the serial doesn't work... don't blame us! At least you found out about a pretty solid tool to help you fight keyloggers and protect your privacy right? ;)