5 Best Free Key Loggers for Parents and System Administrators
Key logging is defined as the snooping of key strokes on computer keyboard. It records words and sentences typed in the computer. Although spying is illegal at many places but key loggers are widely used by parents to monitor their children activities on the computer. Key loggers are not very popular comparing to software in other categories but it is good to save some dollars on free key loggers.
Refog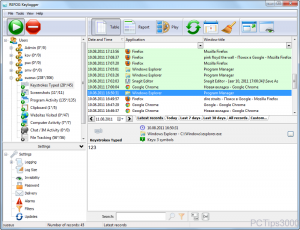 Refog is a fairly popular and good key logger available in three different version of home personal and employee monitor. This free key logger is compatible with Mac and Windows operating system. Users can enjoy its free version while they can also purchase the complete version with cost starting from $39.95.
The free version is ideal for parents allowing them to keep eye on their children's online activities.
Try Refog
Revealer Keylogger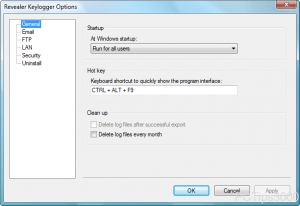 Revealer Keylogger is a free key logging software designed by Loxisoft. This key logger can be used by employers parents and system administrators to keep track of activities on computer system. Users can enjoy its free version with limited features. It is also available in professional version that cost €24.90.
A good feature of the software is that users will receive free updates after purchasing the software and will get access to technical support.
Desktop Shark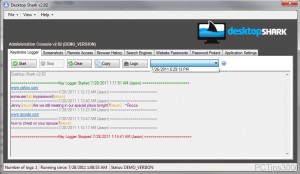 Desktop Shark is a free key logger and has bunch of good features beside key stroke recorder. The software is also available in professional version costing $49.95 and it comes with more useful features. Desktop Shark also offers hardware key loggers which is plugged between USB port on motherboard and USB keyboard plug and it saves key strokes in txt format.
The professional version of Desktop Shark captures passwords web history search engine keywords chatting and more. This freeware is compatible with Windows operating system. All-in-all it is a light weight and easy to use key logger.
Try Desktop Shark
KidLogger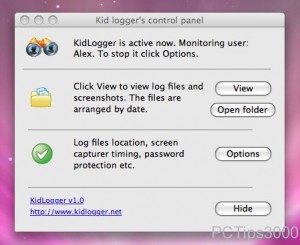 KidLogger is another excellent free key logger that is compatible with Windows and Mac operating system. The software has bunch of nice features such as screen capture chat recorder application usage and duration voice recorder and more. This freeware also monitors files uploaded through emails accounts portable devices plugged such as USB and much more.
The best thing about KidLogger is its ease of use. The software does not have much graphics and it takes few seconds to learn to use the software. KidLogger is available free of cost and parents and employees can use it to keep track of PC usage.
Try KidLogger
Actual Keylogger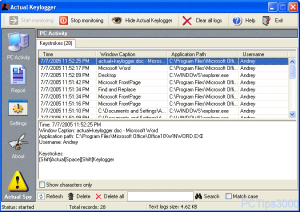 Lastly Actual Keylogger is another nice free key logger that records keystrokes and saves it in encrypted files which can be viewed later in html and txt files. The software sits quietly in the background and records activity of the keyboard.
The software is available free of cost and it is a good tool for system administrators and employers. The software has two modes as hidden and standard mode and it is compatible with Windows.
Try Actual Logger