A Free 64-bit FTP Client For Windows, Finally!
Ever tried to find a FTP client fully compatible with your 64-bit Windows Vista or 7? Obviously there's not only one program to fit the description but when talking about freebies that work properly on 64-bit operating systems things are getting really interesting... and today I decided to tell you a few words about a free 64-bit FTP client for Windows namely Null FTP.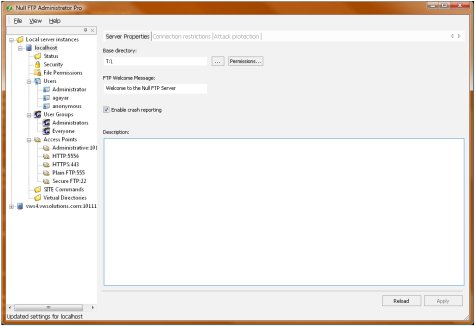 The Null FTP client is available as both free and paid versions (this one's called Null FTP Pro) and while the free edition has some limitations most average users won't feel the difference. Anyway if you want to know what you're missing you should know that the free version does not allow Z compression can only work with 3 concurrent transfers and the number of registered servers is also 3. At last the free version has a TCP buffer size limited to 128KB.
These being said I should also add multilanguage support integrity checks and the fact that you get no additional restrictions when using the free version except those already mentioned above. Null FTP's current version is 1.3 the setup package has 5.8 MB in size and... I guess that's all. Have a nice weekend folks! ;)