Online Code Editor With Snippets
If you're a programmer in a hurry there's no need to download a code editor or use Notepad as long as there are plenty of better solutions online. No I am not talking about downloadable software but online services. Today the time has come for Gist.GitHub!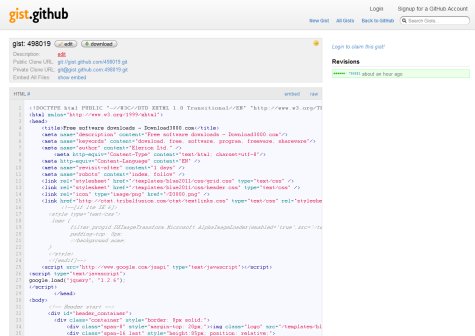 With support for plain text and a really long list of programming/markup languages (syntax highlighting obviously) Gist.GitHub can be easily used without creating an account but having one can't hurt especially since it's free for open source and you'll also get some special features with it. Anyway I won't get to those features since exploring Gist.GitHub is really fun and it doesn't take too long either.
If you were wondering about the official mumbo-jumbo here it is: "Gist is a simple way to share snippets and pastes with others. All gists are git repositories so they are automatically versioned forkable and usable as a git repository."
At last you may want to take a look at the pricing for those developing commercial applications. Just take a look at this page and I guess that's all for today folks! ;)