A "Tasty" Search Engine...
"What are you in the mood for?" That's clearly a good question and I know that some people may have indecent answers to it. Mine on the other side at least at this hour (it's noon) can be only targeted at one thing: food. To be honest I have no idea but I know one thing for sure: I'm hungry! While I wouldn't refuse a pizza a salad would also be great (and healthier) not to mention a bunch of fruits and nothing else but if we leave healthy stuff aside I would really dig some Indian or Turkish cuisine at this time. Choices choices choices...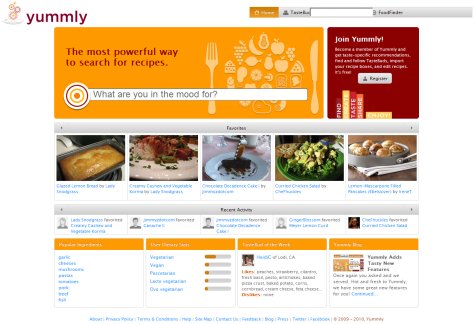 ... and each time when you have to choose a search engine fits in nicely. This time it's about Yummly and excellent addition to my bookmarks that I just discovered. Sure I already had a bunch of recipes blogs already bookmarked but this time we're talking about a search engine that indexes over 500000 recipes from various sources such as Food Network My Recipes Allrecipes Epicurious or Recipezaar. Pretty impressive don't you think?
Obviously this is a completely free resource and if you get a free account you will even get some extra features but for me Yummly is already an excellent website. These being said I'll leave the account creation part to you and if you really like my recommendation maybe you'll drop a comment to help me decide if it's worth wasting a few minutes to get an account or not. Either way I'll surely get back to Yummly there's no doubt about it! ;)