Ad-Aware Free Internet Security: Free Security Software
Ad-Aware Free Internet Security is a free spyware removing software that can help you to get rid of malware and spyware. If you are worried about your PCs protection and want to save it from malware attacks this free spyware remover is what you are looking for. The latest version of this software managed to serve the concerned users properly but still not perfect.
The latest version of Ad-Aware features licensed protection from Sunbelt. It features a new engine called MagmaShield which emulates processor instructions. Which means it monitors aggressively at how a file is interacting with the CPU if it interacts dangerously it uses that to call out intimidations as soon as possible. The latest version also features Lavasoft's pioneer technology that can keep your PC safe from virus and spyware. You won't be able to schedule more than two scans with the free version. But upgrading to pro version can remove this limit. But both pro and free users can schedule custom scans smart scans and full scans and can schedule them to run daily weekly or even monthly.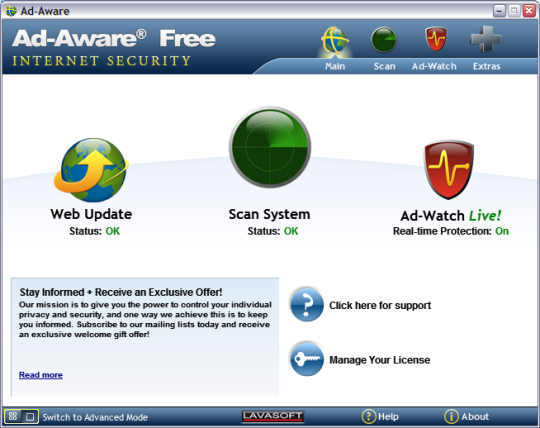 There are some limits of this program which makes it less better comparing to the other similar software out there. You won't be able to access the other sections of this free security tool when running a scan. Moreover you won't be able to scan networked drives.
Features of Ad-Aware Free Internet Security:
Improved detection with smart technologies
Features latest Lavasoft technology and Magmashield
Works faster and offers efficient updates
The installer is only 9MB in size
Ad-Aware Free Internet Security is available for download at Lavasoft's official website. It's only 9MB in size and supports Windows 7 Vista XP and 2000. Try Ad-Aware Free Internet Security Free