Add Additional DFS Namespace Server in Windows Server 2008
When the organization is categorized under medium to large scale almost every information and data is required to be available to the users easily and quickly. To fulfill these requirements administrators many times use several redundancy methods which work as both fault tolerance and load balancing. Higher availability is of course the major concern in such scenarios. Distributed File System management in Windows server 2008 offers a feature using which administrators can add multiple namespace servers to the namespaces in order to maintain the load balancing and fault tolerance. As an administrator of DFS server if you want to add additional namespace server to an existing namespace you are required to follow the steps given below:
1.       Logon to Windows server 2008 computer with DFS role installed on it using domain admin credentials.
2.       Open DFS Management snap-in by going to Administrative Tools.
3.       On the opened window expand Namespaces tree and right click on the namespace for which you want to add an additional server.
4.       From the available menu click on Add Namespace Server and on the opened box click on Browse button and locate the server.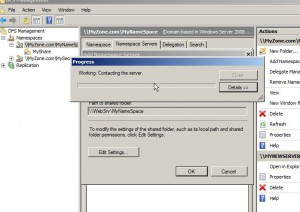 5.       Click on Ok button to add the namespace server for load balancing and fault tolerance.