Add New Folder Target in DFS in Windows Server 2008
When it comes to DFS redundancy plays an important role during the management and working of the entire Distributed File System setup. Fault tolerance and load balancing can be some of the reasons why redundancy and replication between redundant folders might be considered important. When a shared folders is added to DFS namespace it is available to the users. In order to make it redundant administrators may also want to add another folder target which contains identical data in order to provide load balancing and fault tolerance to the setup. As a DFS administrator if you want to add another folder target to any existing one you are required to follow the steps given below:
1.       Logon to Windows server 2008 computer that plays the role of DFS server and ensure that a shared folder is added to the namespace.
2.       Open DFS Management snap-in by going to Administrative Tools from start menu.
3.       On the opened snap-in expand Namespaces tree and expand the namespace in which the shared folder needs to be configured to have another folder target.
4.       Right click on the shared folder and from the available menu click on Add Folder Target.
5.       On New Folder Target click on Browse button to locate another shared folder.
6.       On Browse for Shared Folders box look out for shared folders that you want to add as an additional target. Alternatively you can click on New Shared Folders button to create a new shared folder.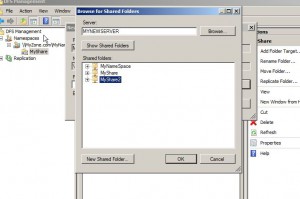 7.       Click on Ok buttons on all opened windows and boxes to add a new folder target to shared folders in the namespace.