Afraid Of Internet Fraud? Test Your Knowledge!
If you're using at least one email address and I bet you do you surely had to face spam and phishing. Sure some may encounter such problems more often than others and it all starts with the degree of exposure of your email address. If you get an account that you don't make public anywhere on the Web chances to become a possible target of online cheaters are really close to none. Nevertheless knowing how to make the difference between phishing and legitimate mail is really important since it could be really useful one day - if not for you for someone asking your support.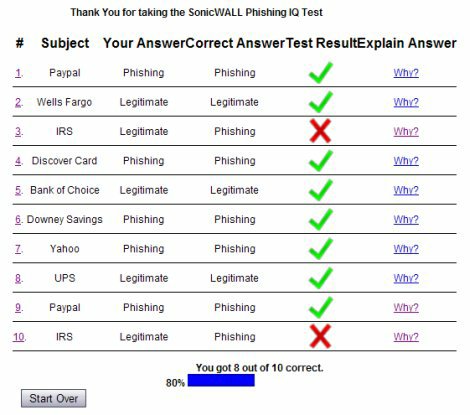 A few minutes ago I was simply moving all over the Web searching for some interesting security resource to tell you about and I bumped into a phishing and spam IQ quiz. That's surely something you don't get to see every day so I moved on and gave it a try obtaining the score you can see in the image above. I could have done better but since I am not a US citizen I had no idea that the IRS only sends you snail mail. Anyway I must admit I missed one answer because I didn't pay enough attention but I think the score is decent. Since there are only 10 questions in the test I am sure you won't get bored so here it is - the SonicWALL Phishing and Spam IQ Quiz. Good luck with that one...
... but don't worry - we're not over yet! If we leave aside phishing there are plenty of other attacks that can be targeting you and your computer and if you're not using a firewall yet I think you should. On the other hand maybe you're a security wizard and to make things clear you should try spending a few minutes to go through this test set up by Agnitum Ltd. the company behind a notorious firewall product!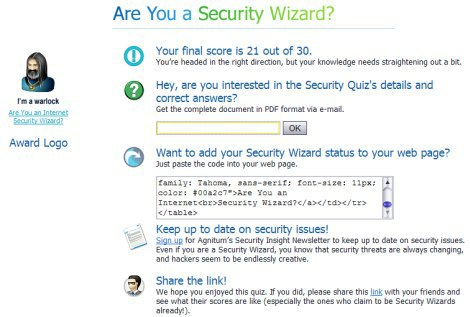 Damn I'm only a warlock not a wizzie! Oh well 21 out of 30 ain't that bad especially since I didn't research any of my answers and I am pretty noobish when it comes to networking especially wireless security. Were you able to do better? Drop a comment below and make me cry! ;)