AIMP 3: A Good Looking and Powerful Audio Player
AIMP 3 is a free audio player which is full of features and unlike its competitor Winamp it does not need a huge disk space system memory or download size. Besides a good looking user interface it has an audio converter audio recorder and a tag editor. With the features of a complete audio player and manager it uses surprisingly less resources.
This powerful Winamp alternative can play any audio format you will throw at it. Starting from MP3 you can play AAC AC3 FLAC WAV WMA CDA OGG and many other unpopular formats. The sound produced by this player is crystal clear and the technology used by AIMP is completely different from Winamp and Windows Media Player. Besides playing your local audio files you can also play internet radio of different format like OGG WAV or MP3. You will not have to search for internet radio playlists if you do not have any. This light Winamp alternative has catalogs of Icecast and Shoutcast services. Besides the basic playback features it also features some functions like cover art downloader tag editor tabbed playlist multi user mode support etc. The equalizer is 18-band and the audio processor is 32-bit resulting the best sound quality possible from your device.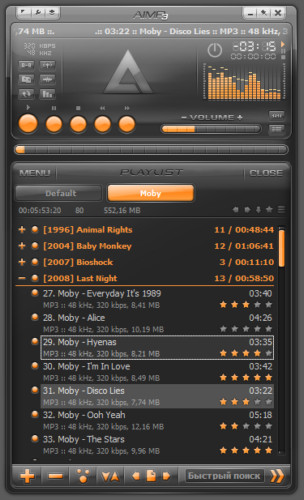 Using AIMP 3 is very easy. If you have used Winamp you should feel the interface familiar. You can either associate all the formats while installing to play any audio file with AIMP 3 or open AIMP 3 and add media files to its playlist. The equalizer has different presets from where you can like the one most suitable for you.
Features of AIMP 3
Supports a wide range of formats
Superior audio quality
Minimal use of system resources
AIMP 3 can be downloaded from the homepage of AIMP. It is 6.61MB in size and supports Windows XP and above. Try AIMP 3 Free