IncrediMail: A New Email Experience
IncrediMail is a free desktop email client that can manage all your emails contacts attachments etc. In addition to basic mailing features IncrediMail has some interesting features than makes the turns your email experience more interesting. If you have left emailing or too bored to check your emails you can check this variant which is not only great looking and interesting but also fully featured.
For composing emails you can choose from more than hundred email backgrounds of different tastes. Besides adding backgrounds you can also add stationaries like emoticons or animations to your emails. Composing an email is also fun. The composer program has some sound effects while you compose an email like typewriter sound effect when typing funny sounds when erasing or deleting words etc.  On the other hand receiving email is also fun in this free email program. There are special animated characters which will notify you when a mail comes. These characters are called Notifiers and you can choose from a good number of options. You will be able to manage all your email accounts from this single program without going to the browser. There is also Photo Mail Maker which will let you attach and send pictures easily with this free desktop email software.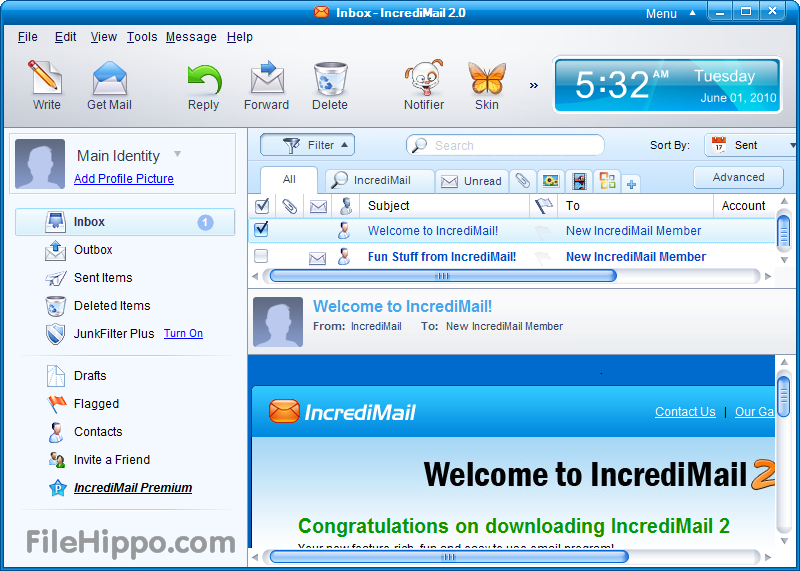 Setting up email account is the only thing you will need to do to set up IncrediMail. Other than that all the functions are as simple as any other email client. Setup your email settings carefully so that you do not delete all the message from your inbox because it is a common incident as such clients have options like delete after downloading mails.
Features of IncrediMail
Lively user interface
Lots of customization options
Easy to use
IncrediMail can be downloaded from the website of IncrediMail. It is 11.93MB in size and supports all versions of Windows. Try IncrediMail Free