Ainvo Registry Defrag: Free Disk Defragmentation Utility
Ainvo Registry Defrag is a free system utility that helps you to defragment registry in your PC to make it faster. When the Windows Registry gets fragmented you can improve your PC's performance by trying this free disk fragmentation utility. Let's see what this freeware has to offer.
If you want to improve your PC's performance defragmenting your hard disk is a good way to do that. But handling the registry files can be difficult for people who don't know much about these things. And handling them in a wrong way can damage the system. That's where Ainvo Registry Defrag can help you. This free defragmentation utility can defragment the registry automatically on startup and can do it whenever you want. It can fix the bad and unused sections in the registry and improve system performance.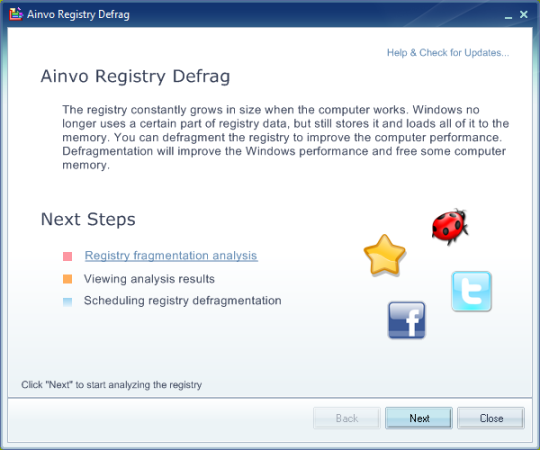 This free system utility is easy to use and is specially designed for inexperienced users. You will be able to defragment all the necessary sections of your PC to improve its performance. All the steps taken by this freeware are nicely explained so there is nothing to worry about when using it. Once this freeware is done defragmenting it will show you a report in your default browser.
Features of Ainvo Registry Defrag:
Defragment your hard disk and registry entries
Improve your PC's performance
Specially designed for inexperienced users
Ainvo Registry Defrag is available for download at Ainvo's official website. It's only 3.37MB in size and supports Windows 7 Vista XP 2003 and Server 2008. Try Ainvo Registry Defrag Free