All in One Player – JetAudio 8.0.12 Basic and Plus VX
JetAudio is yet another freeware media player that can be downloaded from the official website. The software and its vendor are in the market since a couple of decades and are well-known for providing decent quality products. In earlier days when other media players offered only one feature of either music or video JetAudio provided complete versatile solution that contained file support for audio video and midi files. Of course with the latest release of the application the efficiency and the format support are increased. However the latest release of the software comes in two flavors that is a) freeware b) shareware. Users can download any of the above versions as per their requirements and budgets.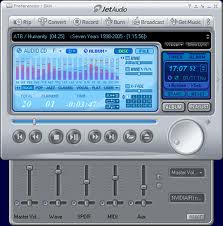 Pros
The application is versatile and supports almost every common format. This allows users to stick to the same player for any type of media file they want to play.
The interface of the application is sophisticated and simpler at the same time which enables users to easily locate the tool they wish to use.
Although the shareware version of the application is available almost every task is also accomplished by using the freeware version of the software..
Updates for shareware version of the software or absolutely free of cost.
Cons
No cons are found in JetAudio player till date.
Download Link: http://www.jetaudio.com/download/