Change MAC Address with Technitium MAC Address Changer v5 Release 3
Technitium MAC Address Changer is a freeware tool and is mostly used for testing purposes in lab environments or professional studies. Today almost everybody knows that a computer can be connected to the network or Internet only if it has appropriate LAN card installed in it. However only network professionals understand the importance of MAC address of any LAN card. For those who don't know MAC address is the physical address of the LAN card which participates in the communication between two computer systems. Since MAC addresses the physical address and is burned on the LAN card normally it cannot be modified or removed by any means. However with the help of MAC Address Changer a user can mask the real MAC address and can modify the information of source MAC address on the transmitted packet with the generated one.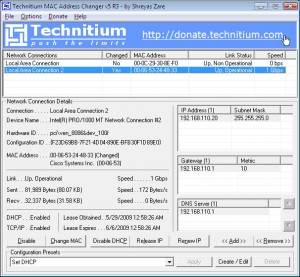 Pros
The application is easy to use and is a freeware.
Latest release of the application allows users to select a MAC addresses by clicking on the list provided in the application.
Students can test the security implementations in labs or test environments.
Cons
Because the application modifies the contents of the outgoing packets Technitium MAC Address Changer can be misused for hacking or any other unethical events.
Download Link: http://www.technitium.com/tmac/index.html