Amazifier: Free Photo Editing Tool
Amazifier is a free image editing tool that helps you to make your pictures look amazing and attractive. If you are not interested to use image editing tools with layers gammas filters and other different tools and is looking for a simple free photo editing tool Amazifier is the best option for you.
Making your photos attractive is really easy with this freeware. There are customize seals stickers and texts available for this freeware and you just have to choose your preferred one from their vast collection. You will find something special for every occasion. You can also add photo effects to your images and create wonderful masterpieces. There are magic brushes included in the free image editor that can add pixie dust and sprinkle bubbles to your images. You can transform your look with Amazifier's touch-up suite whiten your teeth and remove red-eye.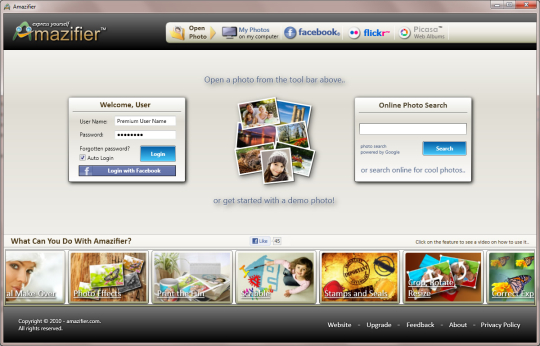 This free photo editor is really easy to use and comes with a cool attractive user interface. You can do normal drawing add effects seals and texts frames to your photos or touch-up them. You can directly browse your Facebook images and other online images easily. But some tools are not available in the freeware and you have to buy the full version to use them.
Features of Amazifier:
Open edit and save images easily
Browse Facebook images and other online images directly
Add text customized seals and effects to your photo
Amazifier is available for download at Amazifier's official website. It's only 1.57MB in size and supports Windows 7 Vista and XP. Try Amazifier Free