Animate Cursors and Modify Icons with Microangelo Creation
Microangelo Creation is a shareware application which is mostly liked by home users. The application allows users to create animated cursors and icons for their Windows based computers. The interface of the application is easy to understand and work on and therefore users need not to go through any training process before using the software. With the help of this application default icons can be changed as desired and animated mouse cursors can be customized or created easily as well. Other products by the vendor offer almost the same features like this one does however the flexibility which is available in Microangelo Creation is incomparable.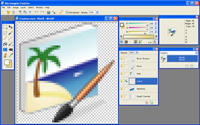 Pros
The application is supported by every version of Microsoft-based operating systems.
Complete toolkit is provided with several controls in the interface after successful installation.
Gets tightly integrated with the Windows hence allowing the users to edit or change the icon of any object they want.
As Microangelo is in the market since quite a while the product has gained a decent reputation along with considerable improvement in its efficiency.
Cons
The interface of the application is although quite simple however basic understanding of animation creation is essential in order to create animated cursors.
Vendor offers three different products which are more or less of same type. It is recommended that users should go for Microangelo Creation only as it works as one-stop shop for them.
Download Link: http://www.microangelo.us/free-icon-editor-download.asp