Cooold!!! Damn it's the 5th day of April and as far as I know it should be nice. Not hot but not as cold as it is outside (and even inside) either! Well I've been through worse weather conditions and I'm still alive and kicking so... I guess 2011's spring will come sooner or later. I know I can't do anything to speed up the process but at least I can get ready to change my clothes at the right time thanks to AnyWeather!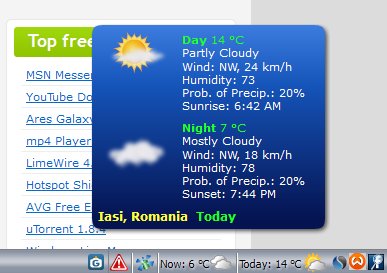 Not so long ago we talked about Forecastfox Weather. That's still a great Firefox addon but it wasn't compatible with Firefox 4 back when I upgraded so today I decided to find another similar plugin. Before moving on let me say that Forecastfox Weather is now working with Firefox 4 too so you may want to give that one a try if you haven't done that already ! ;)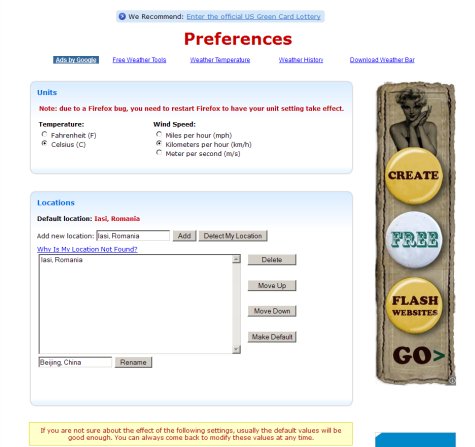 Moving to AniWeather the numbers look like this: current version released on the 28th of March 2011 is 0.8.11 fully compatible with Firefox 2.0 - 4.0.* and having a rating of 4/5 stars after 353 user reviews and no less than 5502451 downloads. As you probably figured out already AniWeather retrieves the weather information from www.aniweather.com also the official home of this plugin as well as its releases for Chrome iPad and iPhone.
Other than the above... I guess it's already obvious that using AniWeather or messing with its settings is a really straightforward process so I can't do anything but hope I'll see the sun shining in it and hope you have the weather that suits you best already... ;)