Assess Your Network Infrastructure with Wireshark 1.4.4
Wireshark is a protocol analyzer and packet sniffer tool which is helpful in capturing the real-time network traffic which can be further used to assess the security and vulnerabilities of the network. The application is a freeware and can be easily downloaded from the official website. It can be installed on a single machine and then can be configured to capture the traffic from the entire network infrastructure hence remarkably reducing the administrator's overhead. With the latest release the software is also capable of capturing IPv6 packets which is helpful in assessing latest technology devices without any additional software or training. Wireshark is compatible with both Windows and Unix platforms.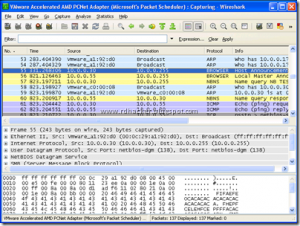 Pros
Captured information can be saved on the files with .CSV .xml etc. file formats.
The software can also capture information from Wi-Fi network infrastructure that is IEEE 208.11 standards.
VoIP packets can also be captured and analyzed with the help of this application.
Cons
Captured information might sometimes be overpopulated with several lines of unnecessary data. In this case it might be challenging for the administrators to find precise information.
As Wireshark is used to capture data from almost every network infrastructure the application can also be used for unethical purposes like hacking.
Download Lin: http://www.wireshark.org/download.html