Automate Installation of Windows 7 with WAIK
Windows Automated Installation Kit for Windows 7 could be considered as a one-stop shop for almost every automation solution. The kit is free software that can be downloaded from the Microsoft's official website and is not limited to Windows 7 only. In fact the application can be used to create answer files and other automation scripts for almost any operating system that is based on Windows Vista or Windows 7 architecture. The application is also capable of creating Windows PE bootable discs which are helpful in capturing and/or deploying the reference images of Windows 7 and Windows Vista computers. Moreover users can also automate the installation process of Windows server 2008.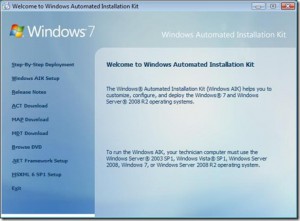 Pros
A single Automated Installation Kit can serve several purposes at the same time.
Answer files created using Automated Installation Kit can be much more granular as compared to the files created for legacy versions of operating systems.
A single kit can be used for Windows Vista Windows 7 and Windows server 2008 hence allowing administrators to create multi-flavored network infrastructure easily and quickly.
Cons
As Windows Automated Installation Kit or WAIK for Windows 7 is an .ISO file and is approximately 1.66 GB in size it may take a decent amount of time to get downloaded from the Internet.
Download Link: http://www.microsoft.com/downloads/en/confirmation.aspx?familyid=696DD665-9F76-4177-A811-39C26D3B3B34&displaylang=en