Update Network Easily with Windows Server Update Services 3.0 SP1
Windows Server Update Services or WSUS is a freeware application developed by Microsoft to allow administrators to update their servers and other client computers connected to the network infrastructure easily quickly and efficiently. With the help of this application administrators can download all desired and required updates right from Microsoft update server to a local computer and then the local computer can distribute those updates to the client computers. This process saves a lot of bandwidth and time which otherwise is consumed when every machine downloads the updates from the Microsoft update server individually. Also Windows Server Update Services server can be connected to its upstream WSUS server in case of large scale organizations where there are several computers connected to a single local area network.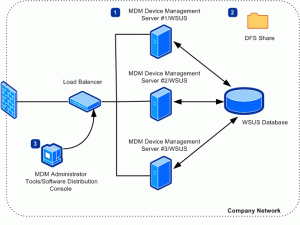 Pros
It reduces additional overhead that administrators otherwise normally face in the absence of application in order to update the computers on regular basis.
Multiple Windows Server Update Services servers can be connected in large scale industries to manage computer updates efficiently.
The latest release of the application can be used in both Windows server 2003 and Windows server 2008 operating systems.
Cons
Before installing the application on any network operating system the operating system must have a list of applications installed on it as the prerequisites of Windows Server Update Services.
Download Link (x86): http://www.microsoft.com/downloads/info.aspx?na=46&SrcFamilyId=A206AE20-2695-436C-9578-3403A7D46E40&SrcDisplayLang=en&u=http%3a%2f%2fdownload.microsoft.com%2fdownload%2fB%2f0%2f6%2fB06A69C3-CF97-42CF-86BF-3C59D762E0B2%2fWSUS30-KB972455-x86.exe
Download Link: (x64): http://www.microsoft.com/downloads/info.aspx?na=46&SrcFamilyId=A206AE20-2695-436C-9578-3403A7D46E40&SrcDisplayLang=en&u=http%3a%2f%2fdownload.microsoft.com%2fdownload%2fB%2f0%2f6%2fB06A69C3-CF97-42CF-86BF-3C59D762E0B2%2fWSUS30-KB972455-x64.exe