Secure Network Infrastructure with Internet Security and Acceleration (ISA) 2006
Internet Security and Acceleration (ISA) Server 2006 is a complete security solution for Microsoft based network infrastructure. The software works as an efficient firewall and proxy server. An evaluation version of the product can be downloaded from the Microsoft's official website and can be used for up to 180 days. When an administrator installs the application on the server by default Deny All rule is applied to the computer hence isolating the entire PC from the network. After this the administrator needs to create several policies to open the ports through which he wants the computer to communicate with the network and Internet.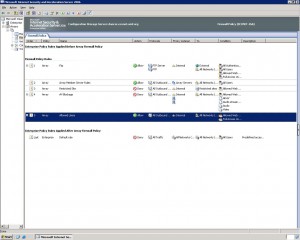 Pros
The application is a complete solution for security purposes.
It works as a firewall hence allowing administrators to secure their entire network infrastructures from any malicious and harmful attacks.
The software also works as proxy server and therefore administrators can create access rules for the websites they want to be accessed by the users.
Since the product is of Microsoft it gets tightly integrated with Microsoft based operating systems.
Cons
Internet Security and Acceleration or ISA server can only be installed on Microsoft's Windows server 2003.
Only specialized and trained professionals can configure Internet Security and Acceleration server because of its complexities.
Download Link: http://www.microsoft.com/downloads/info.aspx?na=46&SrcFamilyId=84504CAD-893B-4212-9AB2-999AD1D8FE68&SrcDisplayLang=en&u=http%3a%2f%2fdownload.microsoft.com%2fdownload%2f8%2f7%2fc%2f87c80d52-7315-4880-bc4d-8863ad354089%2fISA2006SP1-ENU-EE-EVAL.exe