Avira AntiVir Premium Free.. Almost!
No matter how much I love freebies sometimes I just can't hold back when I see really good deals that still require a little spending. For example software packages or individual programs coming for really good prices are offers that I can barely refuse and today I'm really puzzled by a decision: should I buy a Premium subscription for my free antivirus or not?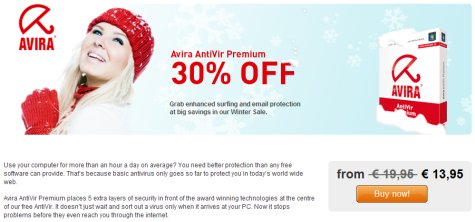 As you probably noticed already if you ever used Avira AntiVir Personal every time the antivirus updates its database it also displays a window with some information regarding the benefits of the paid version. It's not annoying at all and sometimes it comes with really interesting information as it keeps happening in the last few days - Avira AntiVir Premium is available for a really good price - 1395 EUR (~18.35 USD) 30% off from a previous price of 1995 EUR. Sweet!
I've been using this antivirus for more than just a few months now (we're talking about almost 5 years in fact) so you can take my word for it: free or not it's worth every penny! Oh yeah in case you thought this is a paid article - it's not - I used both Avira AntiVir Premium and the Personal version and I can tell you that this is one of the best antiviral solutions available for the home user. In my case it's the best for my needs and that should be enough.
To take a closer look at this Winter Sale feel free to go here. On the other hand if you want to go all the way and grab a fully-featured security suite Avira Premium Security Suite may be your thing. It's pretty expensive but you can try it for free and obviously you get a lot of juice in the package. That's all - stay safe and good luck! ;)