I know this question has a lot of possible answers waiting out there in the wild but I am sure most webasters who asked it got more than just one answer and in most cases they also had to fill some captchas and/or go through some annoying countdowns. Well today we're going to do this in a slightly different way thanks to a pretty useful Firefox addon one that's called azWebsiteWorth.

As I write this azWebsiteWorth 1.1 is the current version of this Firefox addon released on the 18th of February 2011. Unlike most Firefox addons we usually talk about here this one's still marked as "Experimental" and has no ratings while 121 downloads so far is as good as nothing but...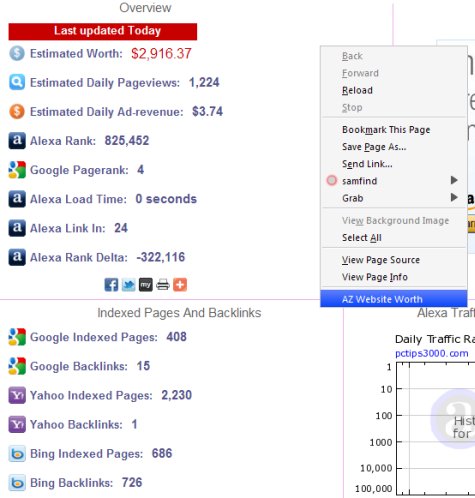 ... after spending some 20-30 minutes browsing through the latest Firefox addons uploaded to Mozilla.org I decided that this one's surely worth checking out so here we are! Its official home on the Web can be found here and you should keep in mind that the information it can deliver goes beyond your estimated site value since you also get the Alexa Rank Google PR indexed pages and backlinks info (Google/Yahoo/Bing Indexed Pages and Backlinks) as well as a few Web Utilities that I'll leave for you to discover. ;) Since I am sure some of you didn't check any of the links above yet I will also add that using azWebsiteWorth is a no-brainer - you only need to right click inside the page you want to check and then click on AZ Website Worth nothing more!