Backup all your emails from Gmail
Today more that 0.08% of Gmail users (this means ~ 150000 users) had a big surprise. When they tried to login they saw that their accounts had been reseted and they lost all the emails. Who thought that they will lose all their mail from an email service like Gmail? The good news is that Google announced that some of the users already have their accounts restored and all the other users will have their accounts and email restored in the future.
Now you may say: i am a lucky person and this will not be happen to me. But what if you will lose all the emails? Be prepared and you should backup all the email accounts. Starting with Gmail.
As always there are two solutions: a easy one and a more complex one.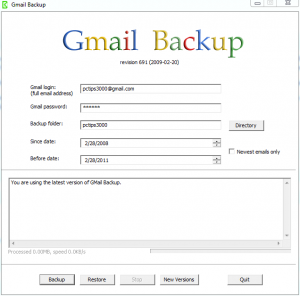 The first solution is called normally Gmail Backup. With Gmail Backup you can backup and restore your emails from Gmail. Also you can backup only the emails you want by choosing the dates of your emails. This way you can save only the emails from the last year or from the last month.

The second solution is to use an Email Client (Outlook Outlook Express Windows Mail Thunderbird ...). Now i will show you how to enable POP from Gmail. Go to Settings ->Mail Settings. From here go to Forwarding and POP/IMAP. Now you may choose what email you want to be sent to your email client. You can send all the emails or only the emails from now on. If you want to know how to configure your email client you should read the instructions available on Gmail Help.