Become a Professional DVD Creator with ConvertXtoDVD
ConvertXtoDVD is a shareware tool which is used to burn video DVDs after converting .AVI files to the appropriate format. Evaluation version of the software can be downloaded directly from the official website to get the feel of the ambience and interface of the application. With the help of this application you can create a complete professional video DVD that can include subtitles and different verbal languages as well. Using this application you can also specify the writable DVD media type. This means that you can specify if the writable DVD is of 4.7 GB or 7.5 GB. The quality of the converted format and burned DVD will be adjusted accordingly. You can even customize aspect ratio settings before finally burning the converted movie to the DVD.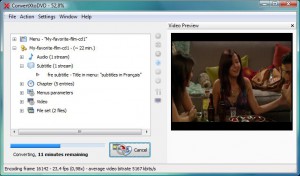 Pros
The application can be a complete versatile solution for both home users and professional DVD creators.
With the facility of importing separate verbal languages while burning the DVD can be created for almost every region of the world.
Users may also create menus and chapters while burning the DVD.
Cons
The complete interface has several options which might be confusing and challenging for new users.
Although the feature of integrating verbal languages is available with ConvertXtoDVD verbal language packages can be hard to find.
Download Link: http://www.vso-software.fr/products/convert_x_to_dvd/