Best PC Security Solution?!?
I said this before I say it again now and I will keep saying it until everyone around me will get the idea and act accordingly the best PC security solution you will ever get is knowledge! A user who really knows what's happening inside the PC and at least the basics on viruses and other threats is much better than one using some Internet Security Suite software package and having no idea about those things.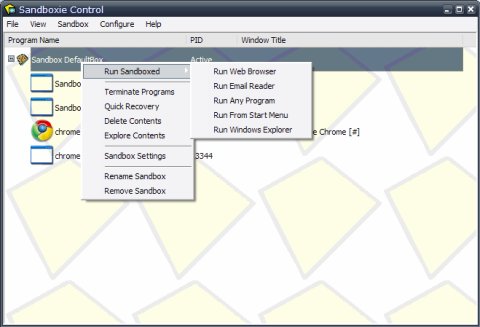 Today I just bumped into a very interesting alternative for those who would rather run any piece of software in a protected environment instead of waste time with various online scanners or searching for information about some obscure program obtained via their favorite forum. Its name? Sandboxie!
With this little proggie (only 568kb to download about 1.9MB a few hours after being installed) you will be able to run your programs in a secured space ("sandbox") so they won't be able to make any permanent changes to other programs or data in your computer. What's the big catch with this? Think!
Sandboxie allows you to browse the Internet without having to install any special malware protection tool since any wicked piece of code downloaded will be trapped in the sandbox while all browsing history and cookies will also remain there allowing you to actually browse the Web without having your personal stuff exposed to other users of your OS (sure as long as they don't find out about Sandboxie...).
At last there's something even better than all the above - you can install software into a sandbox test it then remove it without having to worry about your Windows getting slower because all the remains that are usually left by some programs!
Since version 3.38 of Sandboxie was released in late May I thing we'll get to hear more about this excellent program in the future. Currently there are plenty of features available but I can only dream about password-protected sandboxes the ability to create a 64 bit sandbox (emulated of course) on 32 bit systems and... sure a more friendly way to change settings since I am sure not everyone is crazy about getting through documentation and the editing some INI file to get things properly setup...
If you want to remove the nag screen that appears after 30 days of use Sandboxie is available to be purchased for about 22EUR also adding some new features like Forced Programs Forced Folders as well as the ability to run programs simultaneously in multiple sandboxes.
Pheew... there's quite a lot to say about Sandboxie but I think that best thing to do would be to download it and give it a try and never forget the headline of this interesting piece of code: "Trust No Program!"
Oh yeah one more thing - Sandboxie should work properly with Windows XP and Vista... at least! Considering this if you manage to run it on any other Windows version please be so kind and drop a comment below sharing your experience with us will you? Thanks in advance! ;)