Blue Screen Crash - The Truth
I really hope you're not able to remember the last time when you had to face a "blue screen of death" lying on the display of your own computer because I simply can't tell you even the year when I had to go through all that pain for the last time. The thing I remember is that everything was caused by a new version of my video driver causing my OS to lock randomly each time some application was using 3D acceleration. How did I get through it?
Well back then I had to rely on my own troubleshooting skills but now I just found a pretty useful program that will help you get a lot of info about each blue screen crash you have to face instead of doing what most average users do - ask on forums take pictures of the BSOD or write down the error code and then look for it on Google ask help from the geek next door and so on...
That's the short version of the terrible pain one usually goes through when having what seem to be nothing more than random system crashes. Unfortunately while there are random events that happen in Windows (don't say I'm not right with this one because I know I am!) from time to time just to make your day a bit worse each blue screen crash has some reason behind it and while we're talking about some software issue for most of the time it could also be hardware but let me tell you a few words about WhoCrashed since this should be the star on stage today after all.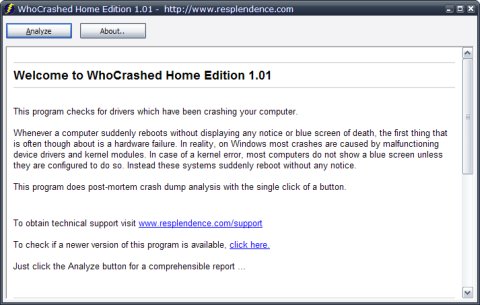 Subtitled "Comprehensible Crash Dump Analyzer" WhoCrashed is a Windows program available as a free home-edition as well as a commercial professional one targeted at system administrators and professional troubleshooters. The price of that version is $35 but since the free one is also a good choice I wouldn't bother buying it. After all you won't get to use this program on a daily basis... at least that's what I hope!
After you download WhoCrashed you may also need to get the Windows Debugging Package (WinDbg) from Microsoft since the program uses it and... you'll also need some blue screen crash of course! Since I had no such thing around I'll have to rely on the word of my friend who told me about this software gem.
Using the program is as easy as 1-2-3 and I am sure you need no instructions so I'll leave you with the precious info I provided (basically it's all about knowing that this piece of code exists) and I'll hurry up to meet the friend who told me about WhoCrashed since I owe him a few beers to many... ;)