Still Looking For A Free RSS Feed Reader?
I don't know about you but I am still looking for a RSS reader to enjoy on a daily basis. I found a lot of good ones but none made me come back to it each day and to be honest I usually load all my bookmarked sites from a certain category at once and go through them instead of checking the RSS feeds. If this is bad or not that I can't really tell but since I found another nice free RSS feed reader why not give it a try?
Before moving on let me tell you that this article isn't exactly a software review as you may be used to see here and there and the reason is obvious - there are a lot of features to go through especially the options available when it comes to setting up and fine tuning your RSS feed reader and I don't want to spoil your fun. OK but what remains if we're not going through those? The fact that you'll get to know RSS Xpress should be enough don't you think?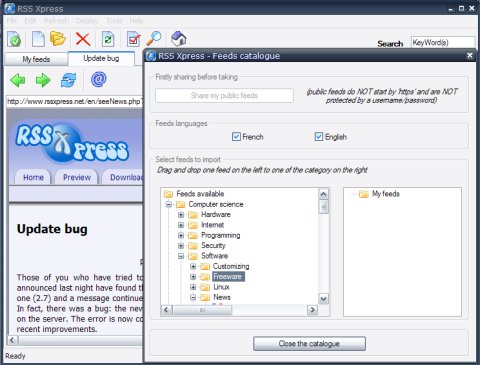 Good so we have a free RSS feed reader that comes from France and its latest version is dated two days back on the 19th of July. The file to download is only 900kb in size and installing it was like a walk in the park. Anyway some of you may need the Microsoft .net Framework 2.0 but if your Windows is up to date that shouldn't be a problem!
I know a lot of people who would choose the program that allows the use of custom interface skins over one with a few extra features and no skins and while I am not one of them I fully understand those doing it. This time RSS Xpress has a lot of skins available for the notifier window that pops up when you get updates but none for the main window so it's only a visual feast that starts well but fails to get to the end...
... but other than that everything most people need is here - Vista support the possibility to organize your feeds in folders assign a different update frequency to each feed (no need to update each hour a feed that gets new stuff each evening basis don't you think?) import/export OPML feeds tabbed interface support for proxy servers feeds catalog (ooh yeah!) and many more.
Oh yeah let's not forget about the news formats supported - RSS feeds versions 0.90 0.91 0.92 1.0 2.0.1 and atom 0.3 1.0 should be enough I guess...
Sure some may say there are plenty of better news readers out there and they may even be right but I am sure there's also someone out there who will appreciate finding this article about this nice software freebie so here you have it! ;)