Pack an entire application into one single .EXE file
Let's say you have an application that you use on daily basis everywhere. For example Yahoo Messenger. You only have access on computers where you can't install applications. The best solution is to find a way to execute the program without installing it. Â The first solution you will have in mind is to try to make the program portable.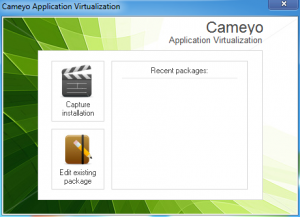 But i offer you a simple and more practical solution: virtualize it. You may say: WHAT? Using Cameyo you can an entire application into one single .exe file. Whether you are a beginner or an expert now you can finally package your own virtual applications in a few clicks. The most important thing is that Cameo is free so you can use it even in your company.
Let me show you how you can do it:
1. Start Cameyo and choose Capture Instalation. Cameyo will take now an initial snapshot of your system.
2. When the snapshot of your system is over start the instalation of the program you want to virtualize. After the instalation is over select Install done button and Cameyo will take a post-installation snapshot.
3. Select  the main application executable and the location where Cameyo will save the executable.
4. That's it :)
You can download from here and if you like the program don't forget to say thanks here.