Gain access of your files from everywhere
Have you ever wanted to gain access of your files from everywhere?  Dropbox is a program that helps you to synchronize your files online and across your computers. You can put the files into your Dropbox on one computer and instantly you will be able to access them from other computers with Dropbox installed or online using Dropbox website. You can install Dropbox on Windows Mac Linux and because your files are stored also on Dropbox's secure servers you can access the files from virtually any device.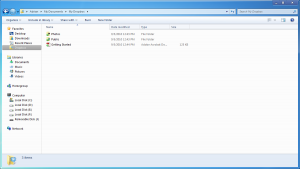 You can use Dropbox to share not only documents but also entire folder or photo albums. Select the files/folders you want to shere put them in your Dropbox and invite your friends to see them. If you don't want that someone to see all your pictures you can send him only links to specific files.
Let's say you work for an important report. When you want to show your report to your teacher you see that your notebook doesn't start and you did't saved your work on a flash-drive. If you use Dropbox you can upload the files to your Dropbox free 2GB account so you can access your report from your teacher's notebook. If you thing that 2GB is not enough for you there are 2 larger paid accounts: Pro 50 for 50GB ($9.99 / month or $99.00 / year) and Pro 100 for 100GB ($19.99 / month or $199.00 / year).