Do you believe that you can convert any txt pdf doc or html into voice ? Yes it is for real you can do that with great site called Spoken text you will be able to convert any text to voice and you can download it on your computer then publish it on your site it supports different languages ( English French and German).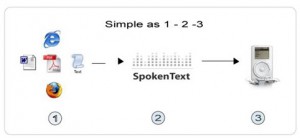 The site support a plug-in for Firefox enable you to highlight the text then it will convert it to voice.
Lets sum up the advantages of the site:-
1- You can Convert text files from pdf/txt/doc/html to mp3. 2- Support a plug in for Firefox just highlight the text then it will be converted to mp3 file. 3- You can choose one of many available sounds (menwomen). 4- You can control reading speed "how many words per minute". 5- You can play the mp3 on your iPod. 6- The site have simple and easy interface This service is very useful and powerful  think about it for example students can convert their lessons to mp3 files put it on iPod and learn while exercise ride the bus or driving.
Note: This service is just a machine that tries to recognize speech and convert it to voice so the pronounce can be little bit different than human pronounce  Try it and tell us your opinion.