Capture Movies from Desktops with CamStudio 2.0
CamStudio is freeware software which is capable of capturing the events that appear on the computer screen. The application can be used to record tutorials errors obnoxious activities etc. Also the application is capable of converting the files to Internet friendly format. This means that the recorded files are originally saved in .AVI format however if users want to share them online they can convert the format to .SWF. Users can also record their voices while demonstrating any tutorial hence eliminating requirement of any additional software to record the sounds. With the help of this application users can capture either full computer screen events or they can specify the area on the monitor which they want to capture while recording.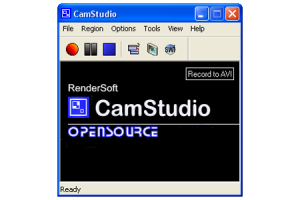 Pros
The installation file is approximately 1.30 MB in size and therefore CamStudio can be considered as a lightweight application.
While capturing sounds users can specify the source of the voices which may be either microphone or speaker output.
A player is also included the application that is capable of playing the recorded files.
Built-in .SWF producer is also installed with the application to create Internet friendly and reduced sized videos.
Cons
In order to capture videos with CamsStudio 2.0 users need to reduce their screen resolution.
Download Link: http://www.camstudio.org/CamStudio20.exe