Publish Imagination with Coral Draw Graphics Suite X5
Coral Draw Graphics Suite X5 is a shareware application commonly used for creating printable designs for banners cards etc. With help of several tools and thousands of combinations included in the software designers can produce high-quality images and drawings. Since the application is versatile it offers users a complete control over the 'canvas' hence allowing them to put their imaginations right on to the computer screens. Also with the help of this application users can create company logos visiting card designs marriage card designs etc. Users who are new to the software or to the designing field can download trial version of the application and can get familiar with the ambience and the tools offered by the software.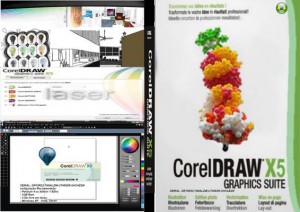 Pros
The software offers a complete and versatile solution to create and publish almost any type of design for any purpose.
Designs can be created of any size and hence the application can even be used by high scale industry designers professionally.
Corel Draw also allows users to mix colors to create several new colors to suite the requirements.
Cons
The application is large in size and therefore it consumes memory and processor usage.
The application also requires a decent quality graphics card to display the exact design created by the designer.
Users need to go through specialized training before they can create professional drawings with the help of Coral Draw Graphics Suite X5.
Download Link: http://www.corel.com/servlet/Satellite?pagename=CorelCorp/Trials/Tab/DownloadPopup&urls=http://www.corel.com/akdlm/6763/downloads/trials/GraphicsSuiteX5/3in1/CorelDRAWGraphicsSuiteX5Installer_EN.exe&language=en&index=0&name=CorelDRAW%20Graphics%20Suite%20X5%20Free%20Trial&prompt=prompt&resumeUrl=%2Fservlet%2FSatellite%2Fus%2Fen%2FProduct%2F1208530085783&macTrialId=