Talk and Share Pictures, Music with Friends with Yahoo Messenger 11 Beta
Yahoo Messenger is an application that requires no introduction or explanation as it is on the Internet since very long time. However the application is regularly updated by the vendor and with each new release new and efficient features are added with it. The same thing is with Yahoo! Messenger 11 Beta version which is the latest release by Yahoo. With the help of this messenger users can now share online video links like links from YouTube with their friends and relatives. Also they can enjoy voice and video chats make PC to PC or PC to mobile phone calls etc. Just like legacy versions of the application this version also allows users to visit several chat rooms as per the community they belong or their interests.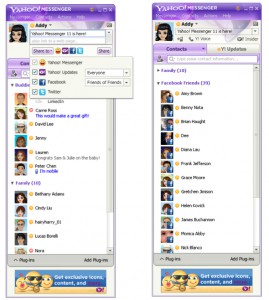 Pros
Users can create voice conferences in which they can interact with their friends and relatives over voice.
Users can play their favorite music files in both chat rooms and watch conferences.
Users can send or receive files right from the chat messenger hence eliminating the requirement of male attachments every time they need to transfer the files.
Cons
Voice conversations in Yahoo Messenger might sometimes collide when two users talk in to the microphone simultaneously.
Download Link: http://rd.software.yahoo.com/msgr/11/msgr11us.exe