Change DNS Zone to Active Directory Integrated Zone
During the installation of Active Directory Services DNS is also automatically installed in order to make network infrastructure run smoothly. By default database of DNS server is stored in a separate file in the DNS folder. This configuration is well suitable for peer-to-peer network infrastructure where numbers of systems are limited and security is not a major concern. However when it comes to Active Directory Services or client/server network setup it is expected that administrators would like to take care of the security aspects of the infrastructure as well and security of DNS database should also not be left behind. In order to make DNS database securer it is always advisable that the DNS zones are always stored in Active Directory database. Technically when DNS zone information is stored in Active Directory database it is said to be an Active directory integrated zone. As a systems administrator if you want to make a DNS zone an active directory integrated zone you are required to follow the steps given below:
1.       Logon to Windows server 2008 domain controller with the administrator account.
2.       In the search box at the bottom of start menu type DNS command and press enter key to open DNS Manager snap-in.
3.       From the opened window expand Forward Lookup Zone and right click on the zone name to get the menu.
4.       From the menu go to Properties and from the opened box make sure that you are on General tab.
5.       Click on Change button and on the Change Zone Type box check Store the zone in Active Directory (available only if DNS server is a domain controller) checkbox.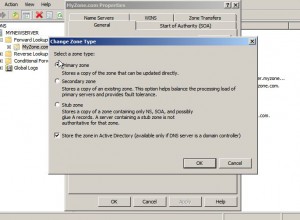 6.       Click on Ok button to make the changes persistent and click on Ok button again to confirm.
7.       Close Properties box.