Change the Way You Log on Using VSLogonScreenCustomizer
VSLogonScreenCustomizer is a free log on screen changer for Windows Vista and above versions. There are some heavy customization packs available which will let you change your logon screen but not everybody wants to use a heavy customization pack just to change their logon screen. This free logon screen changer is for them.
Windows Vista Windows 7 and Windows 2008 Server comes with some default things in their looks that cannot be changed. Log on screen is one of the most noticeable things that cannot be changed. If you wanted to change that you usually had to download complex theme packs or some paid customization programs to change the log on screen. If you want to change every single system setting of your desktop buying such programs is justified but if you just want to change the log on screen and nothing else you will not find any free program that just does the job. You can do that exact thing using VSLogonScreenCustomizer. Using the free log on screen customizer you can set any JPEG GIF PNG BMP or TIFF picture as your log on screen without doing any manual change to your system files which is very risky and not recommended if you are not used to tweaking system files.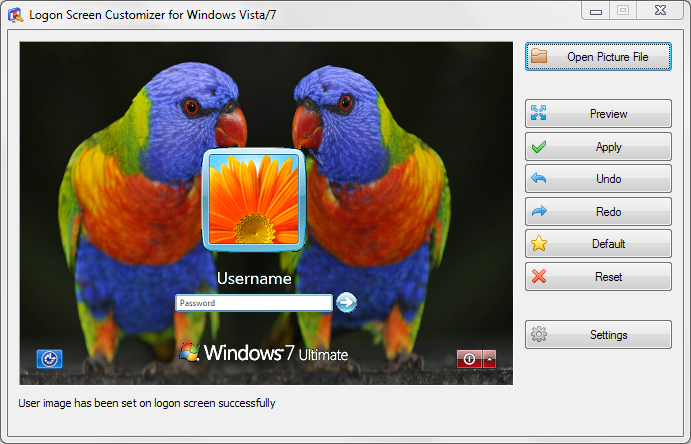 After running the program you will have to open a picture file from the disk. Choose a picture of good resolution as it will be a full screen picture. After that you can see the preview and apply that to your system. You can always go back to the default screen using the Default button.
Features of VSLogonScreenCustomizer:
Easy to use
Very small in size
Reset to default by one click
VSLogonScreenCustomizer can be downloaded from the website of LOKI BIT. It is only 1.53MB in size and supports Windows Vista and above. Try VSLogonScreenCustomizer Free