Screenshoter: The Simple and Fast Screen Capture Tool
Screenshoter is a free screen capturing tool making the task of capturing screenshot easier. If you need screenshots often and the default way of taking screenshot slows you down in your work this should be a great option for you.
This free screen capture tool makes your task of capturing screenshots uncomplicated. There are many screenshot tools out there with lots of features you actually do not use. All these unnecessary features are stripped off here and all you will have to do is to press the Print Screen key. The screen will be saved directly to a file as an image. No screenshot program can be as simple as that. It does not have complications but it does not mean that Screenshoter has less features. You can still customize your setting. You can capture a selected area of screen or you can capture only the active window. You can take screenshot with or without the mouse cursor. The image format of the screenshots can also be selected beforehand. You can take screenshots in JPG PNG or BMP format. You can also select the image quality in the settings. If you want you can also enable the option to copy the screenshot to the clipboard at the same time of saving it to a local file. You can create high quality screenshots of games and movies.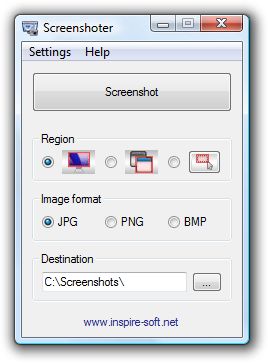 Using this free screenshot tool is very easy. After installation the default mode lets you save screenshots just by pressing the Print Screen key. If you want to change some settings they are very easily changeable using the options.
Features of Screenshoter
Easy to use
Simple user interface
Save to file and copy to clipboard at the same time
Screenshoter can be downloaded from the website of InspireSoft. It is only 176.5KB in size and supports Windows 2000 and above. Try Screenshoter Free