Chat with Google Talk 1.0.0.104 Beta
Google Talk is a freeware chat messenger that is developed by Google itself. Legacy versions of the messenger were not as efficient as the latest release. With the help of this new version users can voice chat with their friends and can send or receive voicemails as well. Apart from this Google also offers a free downloadable plug-in using which users can enable video chats in their Google Talk messenger. The application is also configurable and users can modify and customize the settings as per their requirements. The messenger also synchronizes itself with the web-based Google messenger that is popped up whenever users open their Gmail accounts. In other words anything that is configured in web-based Google messenger is automatically reflected in Google Talk.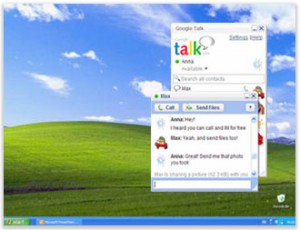 Pros
Voice chats can be initiated and because the application is lightweight the sound quality is quite decent.
Files can be easily transferred using the messenger itself.
Video plug-in can be downloaded which helps users to initiate video chats with their friends while using Google Talk.
Cons
Google Talk does not have Invisible Mode feature and therefore whenever users logon to the messenger they are always visible to their friends.
When users have configured their profiles as Invisible in their web-based Google messenger they are automatically displayed as Online as soon as they logon to Google Talk messenger.
Download Link: http://www.google.com/talk/