Expedite and Automate Windows Tasks with Macromachine 3.4.0
Macromachine is a shareware application that can be used to automate any Windows related tasks. The software is capable of recording mouse clicks and keystrokes and then the recorded events can be played and replayed as per the requirements. Users can also increase the repetition speed if they want to expedite the tasks. Macromachine records every event (mouse clicks and keystrokes) in a file that can be modified manually once the recording is complete. Manual modifications in the file offers more control over the automation processes however users need to have basic understanding the mouse movements and keystrokes technically. Also with the help of Editor available in the application users can manually program the recorded files to get optimum results.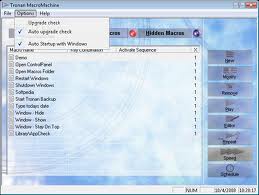 Pros
Legacy versions of the application were large in size and therefore they consumed more processing and memory. However with the new release of the software which is 3.4.0 size of the application is remarkably reduce hence reducing the memory and processing usage.
The application also provides Superfast automation speed option which enables users to speed up the tasks at the maximum speed available.
Experienced programmers can use variables and other programming techniques to exploit the application and its features at their full.
Cons
When multiple events are recorded in a single macro Macromachine fails to execute the recorded file when the speed level is set to Superfast.
Download Link: http://www.eagerplanet.com/download