Secure Your Computer with Folder Lock 6.5.8
Folder Lock is a shareware application which offers security and protection to sensitive data in both home and production environments. The application allows users to password protect their secret information so that it can become inaccessible to other users. Other than this the software is also capable of encrypting and decrypting the information if configured appropriately by the users. Encryption and decryption adds an extra layer of security in corporate environments where a single PC is shared by several people at different times. With the help of Folder Lock application administrators can also enable monitoring which allows them to view who attempted to access the folder in their absence.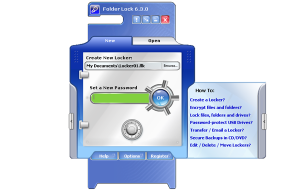 Pros
The application is small in size and can be easily downloaded from the Internet for trial purposes.
The encryption method and password protection which is used by the application is unique in its own way which provides completely secure environment for corporate and home users.
The interface allows users to interact with the application easily hence eliminating the need of learning complicated technical steps involved while enabling Windows' built-in protection features.
Cons
While removing application from the computer users are required to make all the protected items free from the effect of the application failing to which important data might be lost.
Download Link: http://www.newsoftwares.net/folderlock/