Clipboard Magic: Free Clipboard Organizer
Clipboard Magic is a free text editing tool that helps you to organize your clipboard history easily. If your work involves filling web forms and other copy pasting job every now and then you are going to love this freeware. Let's see if this freeware can really satisfy you with its clipboard organizing skills.
We type the same data again and again when filling up web forms or doing other copy paste jobs. So if you wish to get out of this situation and don't want to type the same things again and again it's time that you start using Clipboard Magic. You can managing a long list of copy paste text using this free clipboard organizer and create a clip list of your important texts. Once you are done creating a list you can save it too.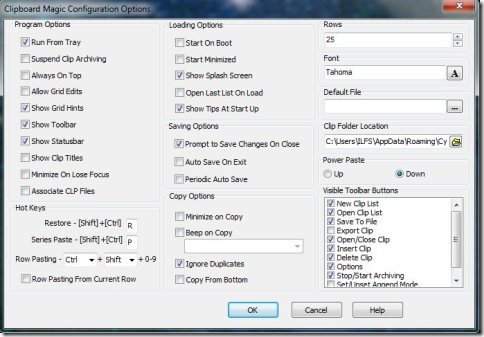 This free clipboard manager comes with a simple user interface and is quite easy to use. There are some simple configurations available inside this freeware that allows you to do some small customization you want. Another attractive feature of this freeware is you can edit your saved clipboard entries by double clicking on them. So if there is something wrong in your copied text you can edit it anytime you want.
Features of Clipboard Magic:
Handle copy/paste jobs easily
Organize clipboard history in a smart way
Save clipboard lists
Simple easy-to-use
Clipboard Magic can increase your productivity if you can use this freeware wisely. You can download this freeware from CyberMatrix's website. It's only 1.17MB in size and supports Windows  Me or higher. Try Clipboard Magic Free