Gilisoft Free Disk Cleaner: Free Disk Cleaning Utility
Gilisoft Free Disk Cleaner is a free system cleaning utility that helps you to remove all the unnecessary files from your disk. If you don't know much about deleting junk files and want a simple straightforward software to handle that task for you Gilisoft Free Disk Cleaner is the best option for you.
You have to admit that cleaning just files from your space can free up a lot of disk space and can also speed up your PC a bit. So if you want a simple free file cleaning utility to do that Gilisoft Free Disk Cleaner is just what you are looking for. This freeware also comes with a disk analyzer for analyzing all the data in your disk safely. You can analyze the unwanted files stored in your PC and start deleting them.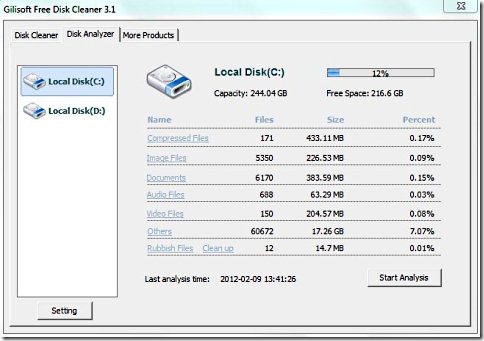 This free disk cleaning utility is very easy to use and comes with a user-friendly interface. You just have to select the disk you want to clean and let this freeware analyze all the data stored in there. You can find the number of compressed files audio files video files documents and other things stored in there without any trouble. In this way you can also find out the number of unwanted files stored in your PC.
Features of Gilisoft Free Disk Cleaner:
Clean unwanted junk files from your PC
Analyze data before cleaning hard disks
Add or delete files you want to delete from the scan
Simple easy-to-use
Gilisoft Free Disk Cleaner can be downloaded from Gilisoft's website. This freeware supports Windows 2000 2003 XP Vista and Windows 7. Try Gilisoft Free Disk Cleaner