ClockIt: Free Employee Management Software
ClockIt is a free employee management software that helps you to manage employee attendance and schedules easily. You will find all the necessary tools inside this free project management software that you need for creating any normal or complex schedules. If you manage a lot of employee everyday and want to make your life easier ClockIt is what you are looking for.
This free employee management software helps you to manage your employees according to your business needs and their availability. You will be able to set shifts of employees schedule range and other schedule related things for employees. If you are not an advanced user and just want to use the basic features of this freeware for creating employee schedules you can just fill necessary information in the schedule and print it for the employees. But if you want to get the best out of this free employee management software there are plenty of advanced features you can try.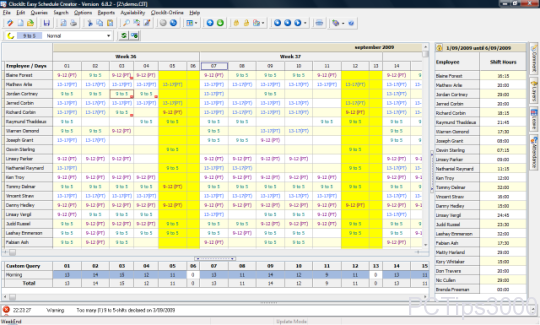 This freeware comes with an intuitive interface that is good for both novice and advanced users. It's quite easy to use and the scheduler is arranged in grids for configuring. It's good for people who don't know how to create schedules as it comes with Automatic Scheduling tool.
Features of ClockIt:
Manage hourly employees easily and create schedules
Create schedules automatically with Automatic Scheduling tool
Different tool for calculating work shifts and hours
ClockIt is available for download at es-software's official website. It's only 20.43MB in size and supports Windows 7 Vista XP 2000 and Me. Try ClockIt Free