Receive Email Notification Instantly with POP Peeper
POP Peeper is a free email utility that gives you visual and audio notification whenever there is a new email in your email account. If you have email account in different places like Hotmail Gmail Yahoo AOL and other places and it gets difficult for you to check them every now and then to see if there is any new e-mail POP Peeper is what you are looking for.
This free email notifier supports IMAP SMPT and POP3 which means you can receive notifications for AOL AIM mail.com FastMail Hotmail Yahoo MSN Gmail RediffMail iWon NetZero Excite Juno and MyWay. You can set different sounds for different email account. It also comes with customizable screensaver trayicon balloon and attractive flashing scroll lock system.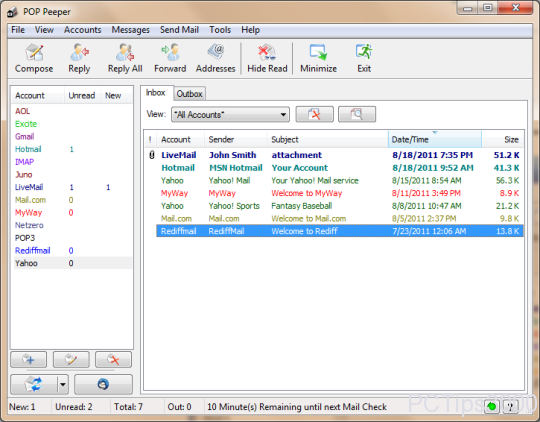 This free email utility comes with useful features and is really easy to use. You can protect your accounts with passwords and this freeware is portable so you can carry it anywhere with you. You can create an address book with the contacts inside your email account if you want. You will be able to open your mails in HTML format and open or send attachments with this free email notifier. If you are worried about your email's security you can also think about viewing them in plain text. If you want to ensure secure connection when getting mails from your Gmail or other POP3 and IMAP server based account you can download an SSL plugin.
Features of POP Peeper:
Receive notification of new email almost instantly
Set different sound alert for different account
Ensure secure connection with SSL plugin
POP Peeper is available for download at POP Peeper's official website. It's only 1.17MB in size and supports all versions of Windows. Try POP Peeper Free