Manage Your Data With Stuff Organizer
After my last catastrophic hard drive failure (I told you about it a few times no need to tell that story again in fact I just don't want to remember it!) I simply dropped my disk collection catalog - too much time required to scan them all again not much need for my old work that has been backed up but also the fact that a large part of that catalog is in my head... ;) Anyway that doesn't mean I suddenly started to hate programs built to help you keep track of your stuff so today I'll tell you a few words about Stuff Organizer a freebie that I discovered a few minutes ago and despite the fact its version number is pretty low and the amount of features won't make anyone go "WoW" I think you should at least give it a try.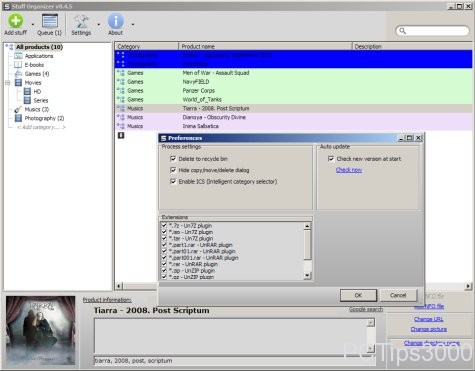 Available for both 32- and 64-bit flavors of Microsoft's Windows operating system Stuff Organizer is a pretty small piece of code - its setup package having less than 2.8 MB in size - that according to the official mumbo-jumbo is considered to be "a reliable and effective tool that will help you record and organize all your stuff (movies softwares games musics e-books or whatever)."
While it can be used to easily manage content from your local drive I think Stuff Organizer's disc-related capabilities are close to none right now so it would be nice to see some improvements in this area. Going back to the things that Stuff Organizer already has I must say that the ability to scan archives (ISO files included) is pretty useful not to mention that fact that it also allows you to use plugins to extend its basic capabilities. If you just want to quickly check what can be done with this program I think the best solution is to take a look at the available movies showing various features - just click here. That's all folks! ;)