A few days ago a buddy of mine asked me about a tool to combine more than two PDF files. So far so good but he also added the "free" part leaving me completely in the dark. So we need a tool to combine PDF files - more than just two of them and that tool should also be free right? Now what if I also add "no installation" to this whole deal what do you think - is such a thing possible?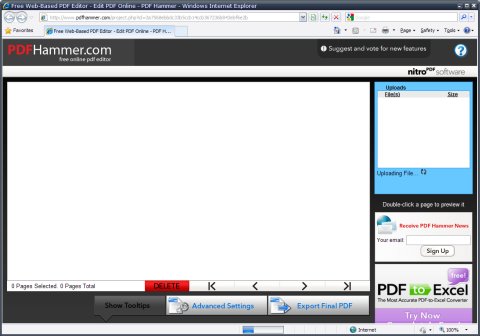 My friends if you need to combine a bunch of PDF files into a single one don't want to install anything and you also want the whole deal to be free I have good news for you: PDFHammer is waiting for your files! Before moving on let me warn you about one issue I just discovered while playing with it: while everything seems to be great this tool only supports PDF files with up to 100 pages so I feel really sorry for those who wanted to join some huge Adobe Photoshop tutorials book and one of those programming bibles available here and there... this is not your day guys! :|
Oh yeah here's one more piece of bad news - encrypted PDF files are not supported either but once you manage to upload your files everything works pretty well - you can preview pages delete parts of the loaded documents and - obviously - join those PDFs you loaded (or what's left of them after you delete those pages you don't need of course).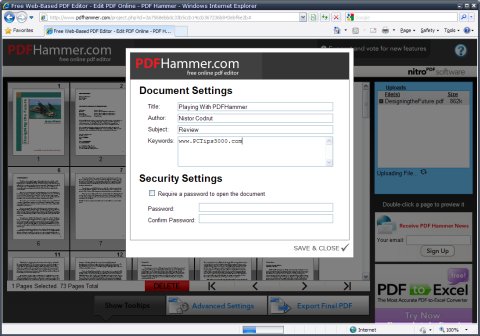 After uploading three PDF files I simply press the Export Final PDF button and... guess what? Yeah this doesn't seem like one of my lucky days - I got an error! Anyway because I am not one of those who give up easily I am trying this once again - maybe it was something wrong on my side...
In the end I managed to make PDFHammer work but I had to use Flock to do that. Could be something wrong with Internet Explorer I can't really tell but this is what I had to do to be successful in my quest.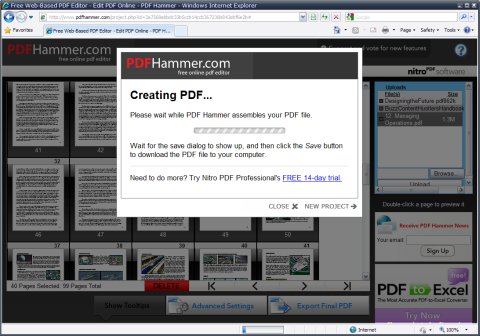 These being said I think I'll leave you here but I won't do that before asking a little help so here's what I want from you: if you have any idea about another tool that can combine PDF files and has less limitations drop a comment below! The requirements remain the same: it has to be a free Web-based tool with support for more than two PDF files and if it can also handle those with over 100 pages as well as encrypted ones that's even better!